Before we get started setting up your Pawscout Smarter Pet Tag, let's check some basics.
Ensure your phone's operating system is completely up-to-date.

Make sure you have downloaded the latest version of the Pawscout App (visit the

Google Play Store

or

App Store

)

In the Pawscout App, select Settings from the bottom right corner and then Manage Permissions. Make sure all Permissions are enabled and green.


Select "Manage Permissions" and ensure all are enabled and green. Click on any red error messages to resolve.

Go to the main Settings menu on your phone and make sure that Bluetooth is enabled. Do not use your phone's Bluetooth settings to pair your Pawscout Tag – you must use the Pawscout App as described below.
Pawscout Bluetooth Smarter Pet Tags ONLY pair with the Pawscout App – do not use the Bluetooth pairing option 'on your phone! Create a profile for your pet (My Pets > Add Pet), and then you will be prompted to pair your Pawscout Tag.
Press the tag once to wake it up. You will see a light flash on the front of the tag, above the Pawscout logo. The light may be white or blue – the color doesn't matter as long as you see the light.
It's best to pair in a closet, staircase, closed bathroom, elevator, or even outside – away from other Bluetooth devices. If you have other pets with Pawscout Smarter Pet Tags, please ensure you are far away from those pets so that you don't accidentally pair the wrong tag.
You can refer to the signal strength in the Pawscout App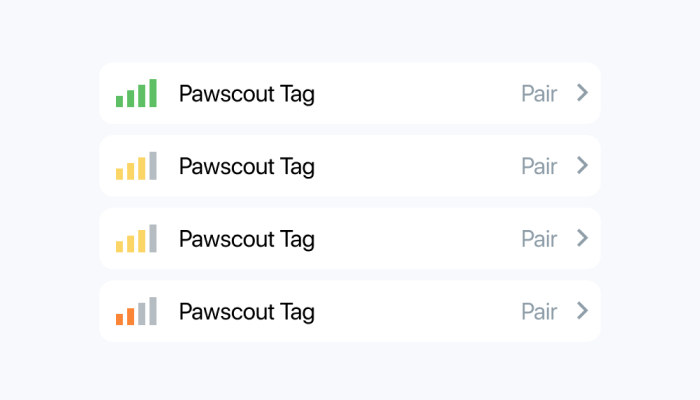 if you have more than one Pawscout Tag. The closest Tag should have the strongest signal, as indicated by the green bars.
Are you still having trouble? We're here to help – please contact us.