Want to keep tabs on Fido's (mis)adventures? Lost track of him and want to see his last-known location? Worried about whether the dog walker is actually walking him? Or just want to pat yourself on the back for all of those long treks with your best friend over the last month?
Pawscout's Scan History can help! Pawscout has made it easier to see where your pet has been by showing you your pet's movements on a map. Every Pawscouter is given a one-day Scan History for free, and Pawscout Pro users will enjoy an extended 30-day history. Learn more about Pawscout Pro here.
If you own the Pawscout Bluetooth Smarter Pet Tag, you will only see the location for your pet as long as he is within 300 feet of someone with the Pawscout App, so get your friends, family members, neighbors and caretakers to download the Pawscout App to provide the best location data for your pet. If you own a PawscoutQR Tag (versus the Pawscout Bluetooth Smarter Pet Tag), you will only see Scan History if your pet's tag has been scanned.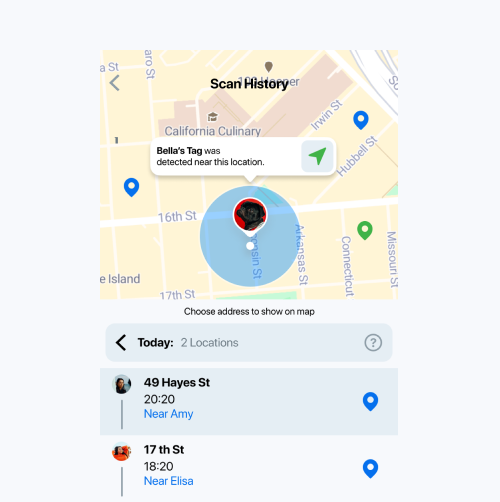 How can I access my pet's Scan History?
Select Open Profile for your pet on the My Pets view

Select Tag & Actions

Select Scan History