Take a deep breath and follow these important steps. The very first step you should take when your pet goes missing is to make sure all permissions and notifications are enabled in the Pawscout App, If they are not enabled, you may not receive important notifications when someone finds your pet.
If you don't own a Pawscout Tag, please take a second to create a lost pet post. Why? If you create a lost pet post, all nearby Pawscouters will be alerted and will be told how to care for your pet and contact you if they find them. To create a lost pet post, follow these quick steps. Open your Pawscout App and click on "For You" at the bottom of the screen.

Then, click the icon at the top right of the screen. Before you write anything, click on the red icon at the bottom of the screen. You will then be guided through a few simple steps to create your lost pet post.

You will be taken to a screen like this. Select "I Lost My Pet" and follow the directions.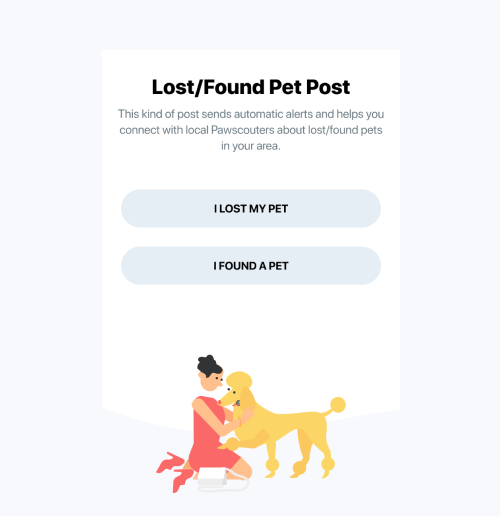 Keep in mind that the more details you provide, the better!
If you own a Pawscout Tag, please follow these steps.
You should first mark your pet as lost in the Pawscout App. Why? Anyone who finds your BFF and scans their tag will know how to care for them and how to contact you. To mark your pet as lost, click on "My Pets" at the bottom of the main screen of the Pawscout App. Choose the profile of the pet that is missing > Tag & Actions > Report Lost.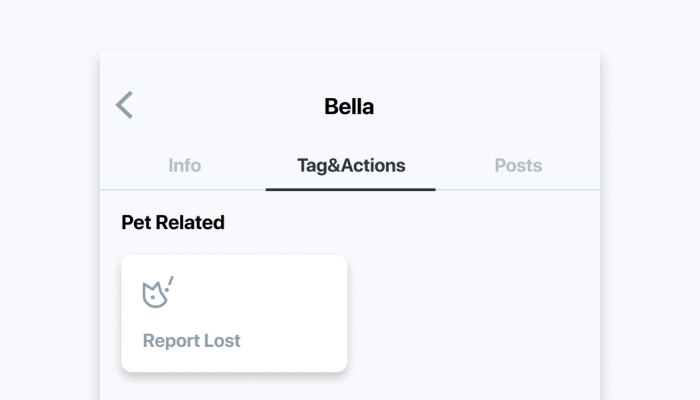 The app will then guide you through a few short steps to create a lost pet post so that everyone in your nearby community will receive alerts and know you need help finding your pet.
If you have the Pawscout Smarter Pet Tag which looks like this,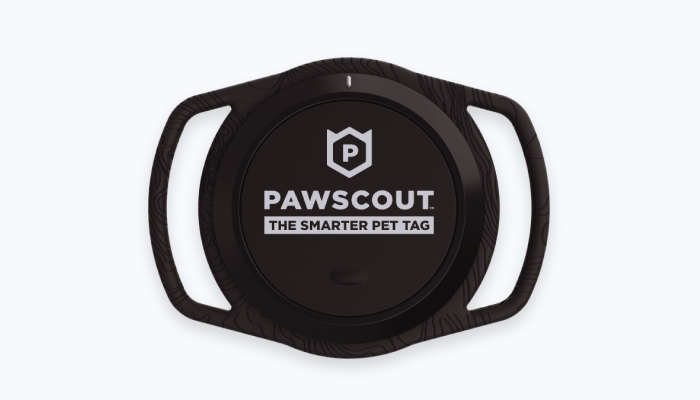 after you have reported your pet as lost as described above, it's time to start the search. The best place to start is by looking for your pet's last-known location. To do this, go into the Pawscout App, select "My Pets", then the relevant pet. Click on the map below your pet's profile photo to see their last-known location.

This is a great place to start looking, but before you do, go into My Pets (bottom menu in the Pawscout App), select the missing pet, and then "Enable Leash."

With the Pawscout App open, walk around to your pet's favorite haunts – under a deck, a neighbor's yard, etc. If you come within three hundred feet of your pet, he will pop back into range. If you have Guardians or Pet Parents, ask them to do the same.
Don't forget to turn the Outdoor Virtual Pet Leash off after you have found your pet – otherwise, you will continue to receive notifications as they come in and out of range.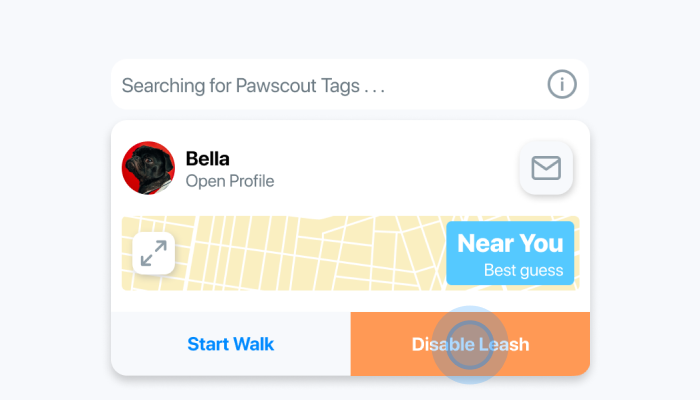 Regardless of whether or not you own a Pawscout Tag, please make sure that the Pawscout App remains open on your smartphone while your pet is missing so that you do not miss important notifications.